Parking and Taxis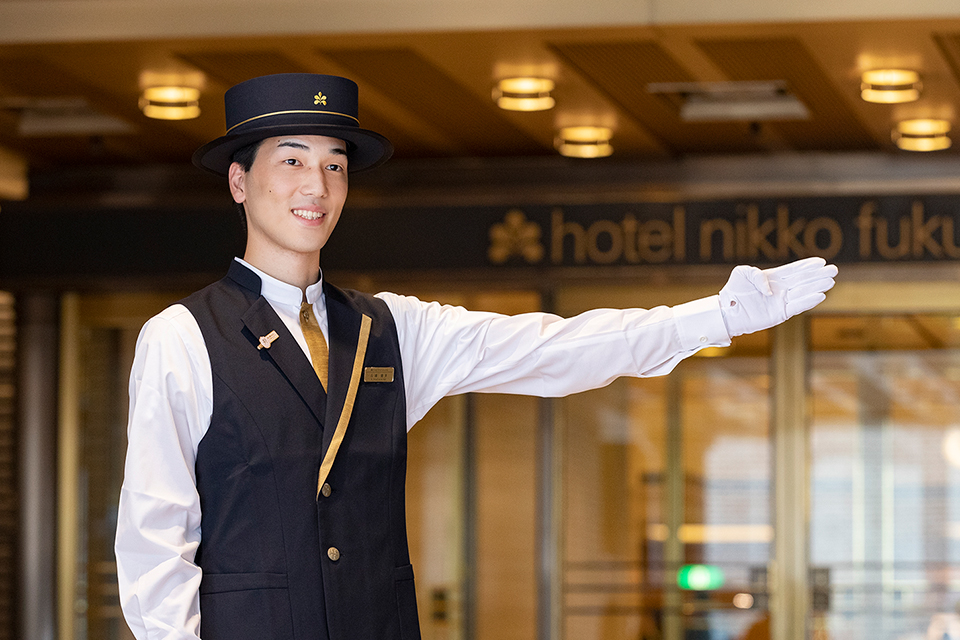 Hotel Nikko Fukuoka has an underground parking lot on levels B1–B3 capable of holding up to 117 cars.
Please contact us in advance if you wish to reserve a barrier-free parking space. Please understand that the parking lot becomes extremely crowded on weekends and holidays, and during these times finding a parking space can be time-consuming or even impossible.
Parking Fees
General use

¥400 for the first hour, and ¥200 for every 30 minutes thereafter

Guest Parking

¥1,500 per car per night

Drop-off

Free for 30 minutes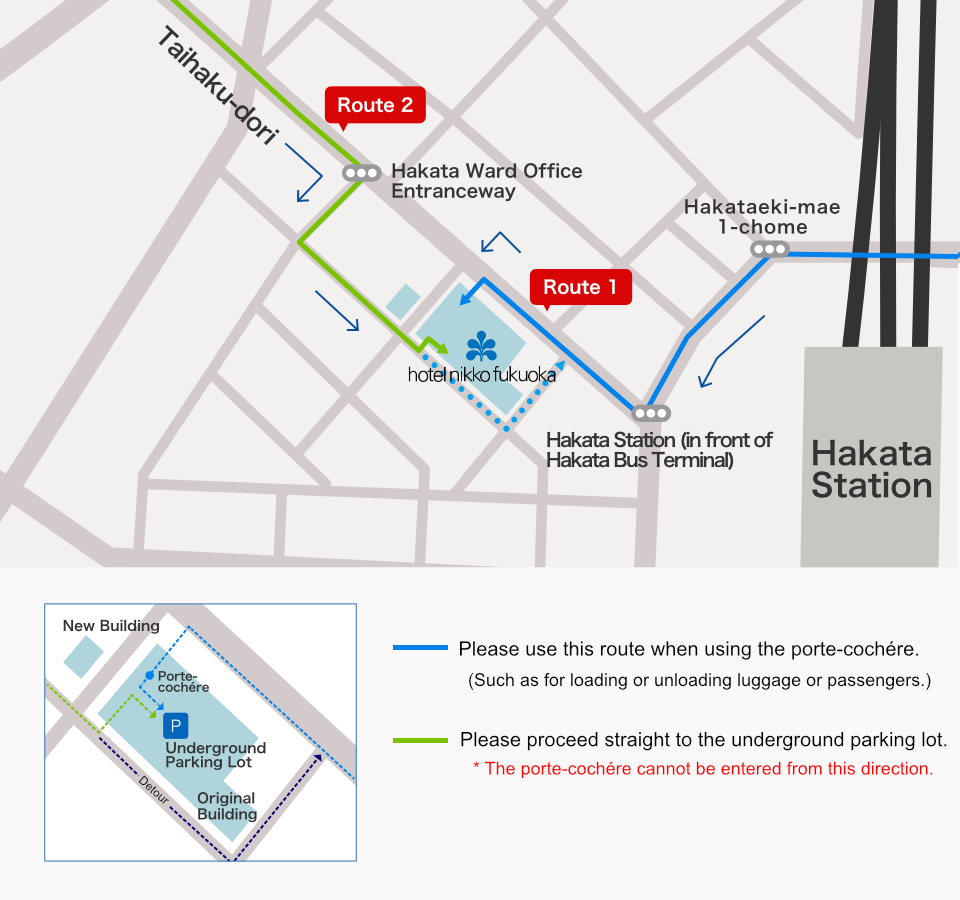 How to Reach the Parking Lot
Route 1 | Hakata Station Approach
Route 2 | Chiyo/Gofukumachi Approach
1 route

Turn left off Taihaku-dori and enter porte-cochére at the far end of the front of the Hotel.
The porte-cochére is a one-way passage.
★ Please use this route if you wish to use the porte-cochére to drop off guests or luggage.
 

2 routes

There is no traffic light at the intersection in front of the hotel. Please turn right at the Hakata Ward Office Entranceway intersection and enter the hotel via the rear entry/exit.


★ Please proceed straight to the underground parking lot when entering via this entrance.




* To use the porte-cochére, go around to the Taihaku-dori side and use the hotel's front entrance.
Fukuoka-Kitakyushu Expressway HP
This website offers information about traffic, routes, tolls, roadworks, travel times and distances, Fukuoka ETC, and driving tips for people using the urban expressway. Traffic congestion and any access control can be found here for 24 hours.
Videos are available to guide users through junctions, the interchange with the Kyushu Expressway, right-side exit ramps, and other difficult-to-navigate stretches of the expressway.
Notes on Parking
Wheelchairs and Baby Carriages

A wheelchair ramp is provided at the elevator entrance on level B1.
We ask that guests with a wheelchair or baby carriage use a parking space on level B1.

Electric Vehicles

Charging stations for electric vehicles are available on level B1.
Type: Standard charger Number of Outlets: 2

Dimensional Restrictions for Parked Vehicles

Vehicles may not be more than 2.1 m high, 4.9 m long, 2.3 m wide, and may not weigh more than 2 t.
(Vehicles exceeding these restrictions will be guided to a paid parking lot nearby.)
* Although vehicles are kept under observation by surveillance cameras and security guards, we ask that guests do not leave valuables in their cars unattended. * The entries and exits are shuttered between 24:00 and 06:00 for security. Please use the intercom to enter or exit the parking lot during this period.